Amplify Your Content With Social Optimization
Grab a copy of this Flipbook to learn the latest tips and tactics for creating social-ready content. This interactive piece provides insights into: Social Sharing Habits of B2B Executives, Mechanics of Amplification & Measuring the Impact of Social Media.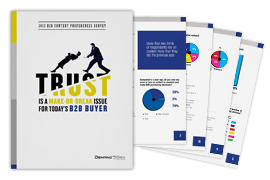 Content Preferences
Survey
B2B buyers now use 5 different content types when researching a purchase. White papers, webinars and case studies top the list but videos and infographics are now becoming a strong part of the mix.
The Changing Role Of Content
View this short 2-minute video for an interactive overview on the growing ROI of content.